Lillian Axe Part Ways With Bassist Eric Morris
August 19, 2014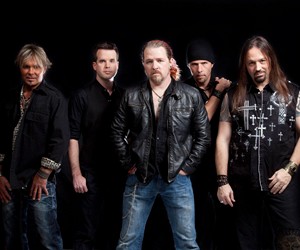 Lillian Axe have parted ways with bassist Eric Morris, who first joined the band back in 2006, and have announced that Chris Brown will be his replacement.
"Unfortunately in life there are moments where changes occur in people's lives that we all wish never occurred, but they do and we have to understand them and move on," says Lillain Axe foounder and guitarist Steve Blaze. "I regret to inform everyone that Eric Morris is resigning from Lillian Axe. Eric is my brother first and a band mate second. He has been with me for many years and is one of the sweetest souls I have ever met. His journey in life is taking a different turn, and it is not allowing him to devote the time and energy needed to remain in Lillian Axe. He has handled this decision with the utmost of consideration and class, even though this was no easy task for him or us. He will still be involved behind the scenes with the organization, and I am sure he will have a lot of input as we move forward. Eric will be present at the Tippitina's show Saturday night and will play a few songs with us, as we welcome new bassist Chris Brown from Jackson, Ms. to the family. Chris has been a longtime fan and is an amazing talent in his own right. It will be bittersweet, but the beauty is that we are all still working together to continue to offer our music to the world in hopes of brightening the lives of those who listen. Thanks to you, Eric, for being my close friend and a vital part in the past and future of Lillian Axe."
Morris first appeared on the Louisiana band's 2007 album 'Waters Rising', followed by 'Sad Day On Planet Earth', 'Deep Red Shadows', 'XI: The Days Before Tomorrow', and the recently released acoustic live album 'One Night In The Temple'.
"It is with a very heavy heart that I have to announce my resignation as the bass player of Lillian Axe," says Morris. "I had such a great time and will always cherish the experiences I was able to be a part of from touring with Alice Cooper to actually getting on that plane to Europe and everything in between. I have met so many amazing people and have made some great new friendships over the years; I will always be proud to have met and talked with each and every one of you. It was your energy, cheers, and fists pumping in the night (and even sometimes in the day) that fueled me to put on the best show I could.
This was a very difficult decision for me to come to. I've recently had some life changing events that have made me rethink some of my personal priorities and responsibilities over this last year. Unfortunately, this meant that I had to get my own house in order before I could continue to expand my musical aspirations and I felt it wouldn't be fair to limit the growth and further success of Lillian Axe due to my restricted availability.
Ken, Sam, Brian, Steve, Charlie, Alan, and everyone else who is or has been a part of this great organization knows I love them all and wish nothing but massive success. The professionalism and musicianship has been unparalleled and of course the friendship that we've developed over the years will never be broken. As much as I will miss sharing the stage with these guys, I will equally miss our time off the stage — bullshittin' on the bus, shootin' a game of pool with Sam (I'm horribly losing that tournament by the way), throwin' back a few drinks, watchin' Ken's "antics" and wondering if he'll "succeed", listening to Steve and Brian go back and forth (you have to see it to really understand its entertainment value), and finally everyone just making this whole experience an enjoyable one. I've heard and personally witnessed the drama that goes on with other bands and I'm continuously grateful we've never had any real problems within our group.
Although I will not be on stage anymore, I will continue to work with Lillian Axe in some capacity behind the scenes and will support them in all of their endeavors. If I'm around, I'm sure I'll join them on stage for a tune or two. I also plan in some way to be active musically in and around the New Orleans area, although very limited for the moment. I will truly miss this experience, the stage, and of course the greatest, most loyal fans in the land! As saddened as I am, I know in my heart that this is something I have to do and is the right decision for me."
Courtesy of www.sleazeroxx.com